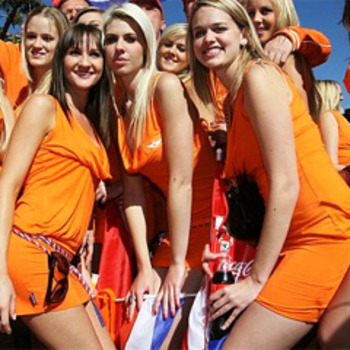 The World Cup 2010. Massive amounts of media dollars spent by a few big brands wanting to associate themselves with the beautiful game and getting some exclusive media rights to the tournament. For every other brand the challenge is to punk them without the need to be an official sponsor. Nike have pretty much done this already with their Write the Future campaign and despite the cool Adidas Originals Star Wars mash up, most of Adidas' publicity has been about THAT ball.
And then there's the official alcohol brand. Budweiser have spent gazillions to be FIFA's drinking buddy and I'm still a little gobsmacked when I see some people in the crowd clutching a bottle. There's a good reason it's banned in stadiums over here, not entirely sure why it's not over there. Anyway, I digress.
How do you ambush the Bud party, get yourself noticed and talked about?
1) Buy a load of tickets of an ex Wimbledon player who has somehow managed to get to the World Cup as a pundit – and subsequently been fired for his lack of ability to keep his ticket allocation to family and friends (and with the best headline so far from The Sun – tout of Africa). If only it was Mick McCarthy, is he the dullest man in the universe?
2) Hire a harem of hot, blonde, Dutch girls.
3) Dress them in matching orange mini-dresses and give them the match tickets to the Holland game.
4) Rely on TV camera crews to pick up on hot, blonde, Dutch girls in short dresses and let the lingering camera shots do the rest. Bonus points if the game is dull and therefore more crowd footage.
5) People will go "phwoooar, look at them! Why are they dressed all the same?" Google becomes your friend. Voila, everyone knows it's for Dutch beer Bavaria. And they've done it before.
Hurrah! Job done. Girls in newspapers everywhere, brand gets noticed, Bud punk'd, less money spent. Everyone loves you.
Except in this case, FIFA and Bud didn't like being punk'd. They got mad, they got the girls evicted (somewhat expected) and then the organisers arrested (most unexpected)! The world has gone mad. Sure they want to protect their investment but there was no overt branding on the dresses. No one really has a clue what Bavaria beer is still. This just makes Bud and FIFA look like dorks. Shame on them.
But good for Bavaria – they're planning on more stunts with different colour dresses. Perhaps this World Cup will get interesting at last. Especially if Mick has been generous with his tickets.
Who wants to drink Bud with football anyway? I'd rather have a bevy of hot girls in orange dresses any day.